Cancelled
Event
Reverend Horton Heat + Delta Bombers & Support from Red Hot Riot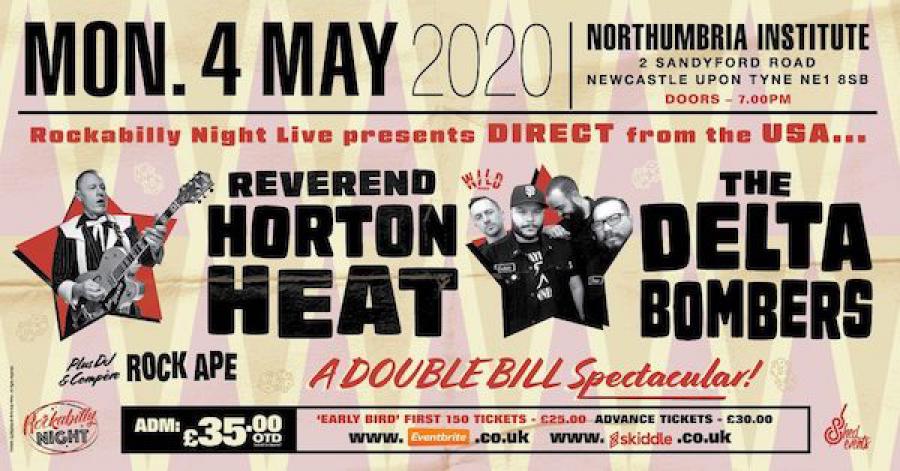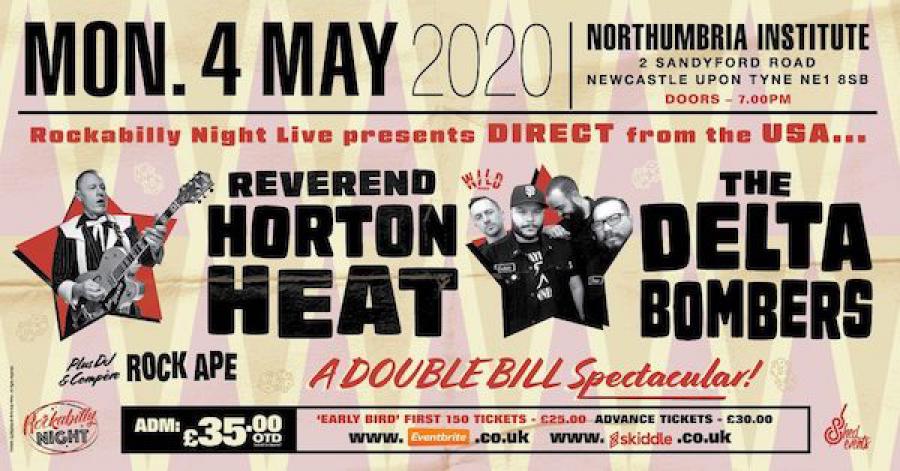 Spinnin' hot wax
More info
Reverend Horton Heat + Delta Bombers = Amazing Night Out! Rockabilly Night Live Presents DIRECT from the U.S.A. - A double bill spectacular with two of the greatest rockabilly acts of all time! This is an invitation for you to join rockabilly fans from all over the UK to ROCK HARD and DANCE LIKE THERE'S NO TOMORROW! With the energy these bands pump out; there just might not be one! These rockers may hail from America, but they might as well be time-traveling space cowboys hitting the stage with the atomic impact of a meteor at full speed, and SPEED there will be! With blistering guitar pickin', thumpin' slap bass and tight drum beats fillin' up the night, it will be like the roar of super charged hot-rod engine at full blast. Opening up the show we have newcomers Red Hot Riot. Red Hot Riot are a three piece rockabilly band from the Forest of Dean. To fill in between these legendary showmen, our very own DJ Rock Ape will keep the energy. If you are a fan of Rockabilly, Psychobilly, old school Rock'n'Roll or anything in between, this a night you don't want to miss out on! - Reverend Horton Heat Get ready to be converted to the evangelical as the Reverend Horton Heat preach the Gospel of Rock'n'Roll. Experiencing these rockin' tribal rhythms, that transcend time from the early 1950s way into the future, will transform even the most hardcore rockabilly fan. Get ready for the rockin' High-Octane, Spaghetti Western Wall of Sound that is everyone's favorite preacher. With 11 studio albums to date, these rockers from the great state of Texas, have more than put their mark on history: They have slammed into the history of Rock'n'Roll with meteoric force and pumped pure nitro into the old hot-rod engine of the genre. They will surely deliver what they preach, in the form of pure, brain-melting guitar solos, wild stage antics, and plenty of un-apologizing attitude! Get ready for the sermon of your life! - The Delta Bombers What do you get if you fuse 1950s Rock'n'Roll with swampy blues, red hot country, and high powered rockabilly' The answer is the highly explosive and by no means safe contraption that has been annihilating stages all over the world for over a decade! This hard touring band has been tearing up crowd after crowd in 26 countries with their take-no-prisoners attitude and super-charged energy, and does not seem to stop for anything or anyone. Directly from Las Vegas, Nevada, it's The Delta Bombers! Their 4 studio albums bear testament to the virtuous musicality of these four rockers, but it's live on stage that their music really spits flames. From powerful vocal abilities of Chris Moinichen, the scorching guitar riffs of Andrew Himmler, the floor rumbling bass lines of Gregorio Garcia, to the earth shattering drum beats of Micah Malcolm, The Delta Bombers will blow you away with their raw, All-American roots music! - Red Hot Riot Only in their early 20's & Influenced by the 80's rockabilly revival, they have grown up with this music being played around the house and now feel its their tun to make their mark on this infectious genre.
A growing list of Rockabilly, Rock'n'Roll, Hillbilly, Psychobilly, Western Swing and related music events, festivals, weekends and parties. Please help us make it grow!
RockabillyRules.com is not responsible for the information provided by the promoters or the information obtained from the official websites. For last-minute changes, it is better to be aware of the news on the official pages or their channels on social networks.